Quick Curl Skipper Dolls
There were two different Quick Curl Skipper Dolls released between 1973 and 1977. The doll's hair contained metal fibers that made them style-able without any heat or any other tools. With the included curling wand, you could curl Skipper's hair easily.  Both Skipper Dolls are wearing maxi-dresses and include the standard Quick Curl accessories.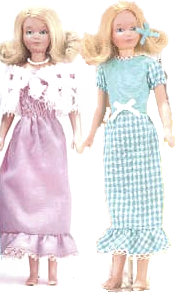 While they use the original Skipper face and head mould, they have painted on freckles and eye lashes. These tolls were made in Taiwan and are not the same quality as the original vintage Skipper dolls that were made in Japan. They are prone to their limbs falling off and the hair with the metal fibers is very prone to break off. This can make it difficult to find a doll that is in excellent condition.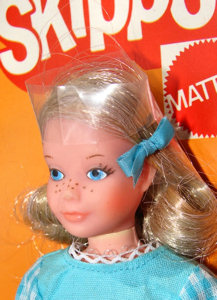 The first version is much easier to find. She came in two different boxes. The one pictured below is much more commonly found, therefore the other box is considered to be HTF and therefore more valuable.

Name:
Quick Curl Skipper Doll

Deluxe Quick Curl Skipper

Model #:

Model #:
4223
9428
Issue Date:
1973 to 1975
1976 to 1977
Box Date:
1972
1975
Hair Color:
Blonde
Blonde
Face:
Turquoise Blue eyes, Brown Eyebrows, Brown Freckles, Pink Lips, Painted on Eye Lashes
Turquoise Blue eyes, Brown Eyebrows, Brown Freckles, Pink Lips, Painted on Eye Lashes
Clothing:
Long dress with turquoise blue bodice and white and turquoise gingham shirt and sleeves
Blue Hair Ribbon
White Flat Shoes
Pink and white woven long dress with shirred bodice, lace trimmed short sleeves and white lace trimmed ruffled hem
White Crocheted Shawl - attaches to the dress
White Bead Necklace
Pink Flat Shoes
Accessories:
Skipper came with the same Quick Curl accessories as Quick Curl Barbie - hot pink brush, curler and pointed comb, two white metal barrettes (or bobby pins), yellow and blue hair ribbons
White plastic brush, comb, curler, long blonde fall on a pink ribbon, two white metal barrettes (or bobby pins), yellow and blue hair ribbons
Stand:
White X Stand
None
Body Markings:
&copy1967 Mattel, Inc.
U.S. Patd.
U.S. Pats.Pend
Made In Taiwan
&copy1967 Mattel, Inc.
U.S. Patd.
U.S. Pats.Pend
Made In Taiwan
Other Quick Curl Dolls:
Quick Curl Barbie
Quick Curl Francie
Quick Curl PJ
Quick Curl Kelley
Quick Curl Miss America
Quick Curl Cara
Deluxe Quick Curl Barbie
Deluxe Quick Curl PJ
Deluxe Quick Curl Cara
Fashion Doll Guide Home » Skipper Dolls » Quick Curl Skipper