Vintage Barbie Golden Elegance
Vintage Barbie Golden Elegance was a new version of Evening Splendour #961 (1959-1964).  The 1963 Golden Elegance ensemble is much harder to find because it was made for only one year.  It is essentially the same as Evening Splendour, except a different fabric was used for the dress and coat.  The purse was made from a different fabric as well.
See Vintage Barbie Golden Elegance on eBay.
Take a look at the comparison below of
Golden Elegance and Evening Splendour.
Golden Elegance
Red and Gold

Evening Splendour
Gold and White
When the Golden Elegance ensemble is found, it is generally in good condition, as the brocade fabric has held up very well through the years.  The dress has a back zipper and the fur is the most likely place to show wear.  The purse and the hanky are hard to find.  The hat is also hard to find in good condition with all of the pearls intact.  When an ensemble is only made for one year, the supply is understandably lower than the mass produced items.

Vintage Barbie Golden Elegance Collectibles
There are vintage collectibles available today that feature the beautifully tailored Golden Elegance ensemble.  Although there were a limited number of items that were made with this particular outfit as the focus, those that were made are highly sought after by collectors.  These items are increasingly hard to find and are great additions to any Barbie collection. 
---
Golden Elegance Barbie Trading Card.
In 1990, Mattel issued a Barbie trading card featuring the 1963 Golden Elegance ensemble.  On the back of the card Golden Elegance was described as an elegant look that's as good as gold!  A detailed description of the ensemble followed, along with Barbie Facts and fun facts.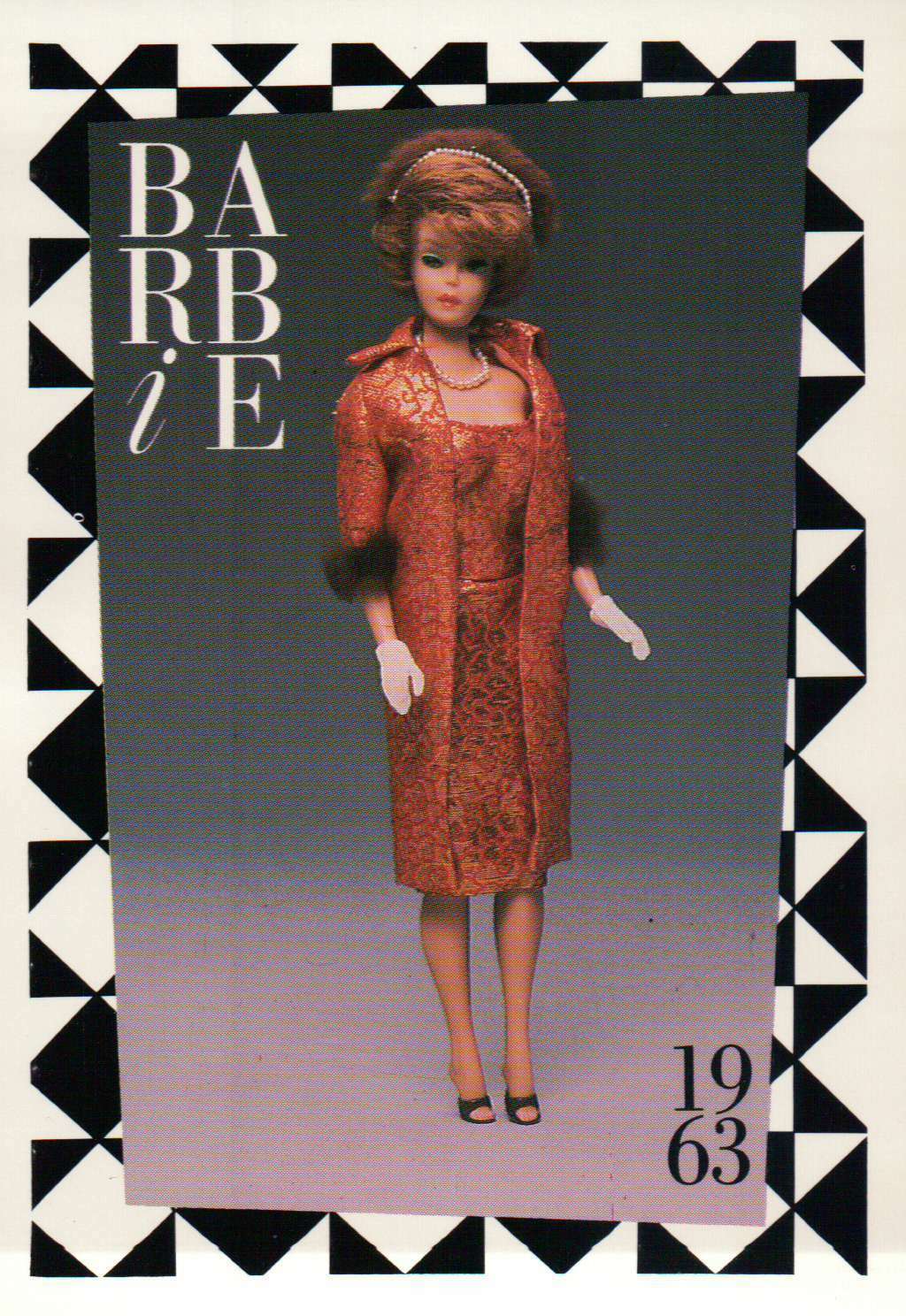 See Vintage Barbie Golden Elegance Trading Card on eBay.
---
A variety of fashions were manufactured for the Japanese market and Golden Elegance #B992 was one of them.  While some outfits had some variations from those sold in the United States, the Japanese version of Golden Elegance appears to be true to the original design.
See the Japanese Version of Golden Elegance on eBay.
---
You Might Also Like: