Vintage Barbie Golden Girl
The Vintage Barbie Golden Girl ensemble was a glittering sensation.  This sleeveless sheath dress was made from a lovely gold and white brocade fabric.  It had a back zipper and a cloth Barbie tag.  The rich fabric was so glamourous that the reverse side of this brocade fabric was also used in a variety of Japanese outfits. Because of the quality of the brocade fabric, this ensemble has held up very well and is fairly easy to find in mint to near mint condition.      
Vintage Barbie Golden Girl
#911
1959-1962

Strapless Gold & White Brocade Dress
Aqua Corduroy Purse
Graduated Pearl Necklace
Short White Gloves
Brown Open Toe Heels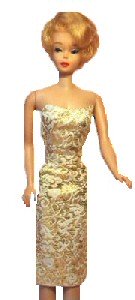 See Vintage Barbie Golden Girl on eBay.
More Vintage Barbie Golden Girl
The aqua corduroy clutch purse with white satin lining, can be hard to find – especially in great condition. They seem to easily show wear and tear. The purse should also have a gold bead and loop closure.

The same pattern that was used to make the Golden Girl #911
sheath dress was also used for:
and fashion pak item, Lame Sheath made in 1963.

---
You might also like: