Vintage Barbie Party Date
Vintage Barbie Party Date was designed for twirling on the dance floor with a white satin full skirt that was glittered and flocked.  It was an updated version of Silken Flame #977 (1960-1961).  The same pattern that was used for Silken Flame was also used for Party Date, along with the same skirt fabric.  It also featured the same stylish white satin bodice and glitter on the skirt.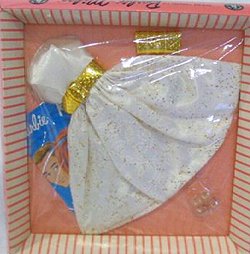 See Vintage Barbie Party Date on eBay.
Vintage Barbie Party Date Ensemble Details
Vintage Barbie Party Date was one of seventeen new fashions that were issued in 1963, so there were a total of thirty-seven outfits available along with the twenty from previous years.  Here you will find the details that made the Party Date ensemble special.

Party Date
#958
1963
White Satin Strapless Dress with Gold Glitter
Gold Dimple Belt
Gold Dimple Purse
Clear Open Toe Heels with Gold Glitter
This ensemble is hard to find and very, very hard to find in excellent condition.  The glitter is often all or almost all gone and it is often dirty or dingy.  When found in excellent condition the white satin is absolutely beautiful.  The clear shoes with glitter are also very hard to find.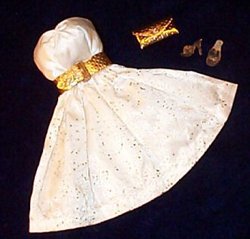 Barbie & Ken Trunk.
In 1963, a Barbie & Ken doll trunk was released.  Barbie is wearing Party Date and Ken looks debonair in Saturday Date.  Each side of the wardrobe style trunk offered a doll compartment, hangers for fashions and a drawer for accessories.  One side of the case was designated for Barbie and the other side was just for Ken.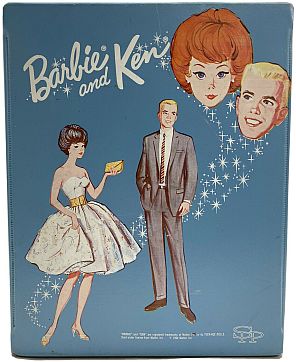 See Barbie & Ken case on eBay.
More Barbie Date Night Ensembles
There's no doubt that Barbie had an outfit for every occasion.  And with dating being such an important part of the Barbie & Ken experience, there were fashions created specifically for date night.  From a casual Friday Night Date to a special Theatre Date ensemble, Barbie was ready for whatever came her way.  Click on the link listed below to learn more about each ensemble.
---
Friday Night Date
Powder blue corduroy jumper with felt appliques.
#979
1960-1964

See Vintage Barbie Friday Night Date on eBay.
---

Theatre Date
Emerald green suit with matching open-toe pumps.

#959
1963
#1612
1964
Remake of Theatre Date #959 without the pillbox hat.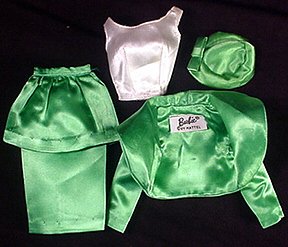 See Vintage Barbie Theatre Date on eBay.
---
Movie Date
Blue and white striped dress with sheer overskirt.
#933
1962-1963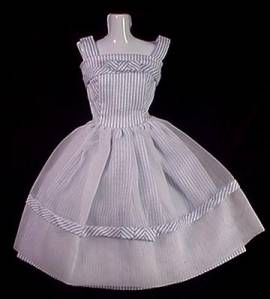 See Vintage Barbie Movie Date on eBay.
---
Lunch Date
Made from the same pattern as Movie Date shown above.
#1600
1964
See Vintage Barbie Lunch Date on eBay.
---
Disc Date
White body blouse paired with a fuchsia velvet long skirt with "diamond" button insets.
#1633
1965

See Vintage Barbie Disc Date on eBay.
---
You might also like: