1967 Vintage Skipper Clothes
1967 Vintage Skipper Clothes consisted of twelve new ensembles.  Skipper's three fashion pak items from 1965 and 1966 continued in the 1967 collection.  1967 was a transitional fashion year for the entire Barbie family, as their fashions began evolving from very traditional clothing to more mod styles. 
1967 Vintage Skipper Clothes In Detail 

Skipper was always looking good with clothing choices full of style to fit any occasion.  Here you will find detailed descriptions to help narrow down your favorites.
---
All Prettied Up #1949 (1967)
Rose Pink Chiffon Party Dress Lined with Rose Taffeta
White Crochet Over-skirt
Lace Trimmed Cuffs
White Lace Hose
White Flat Shoes
There were two variations of this dress. One was a lighter pink chiffon fabric and the other was with the over-skirt made of white embroidered organdy.  The very delicate sleeves are very prone to tear, especially at the shoulder seam - so handle with care!

See All Prettied Up on eBay.
---
All Spruced Up! #1941 (1967)
Black and White Tweed Dress with Black Buttons, White Collar and Cuffs 
Red Ribbon Tie
White Hat with Red Ribbon Trim and Bow
White Shoulder Purse
White Lace Hose
Black Flat Shoes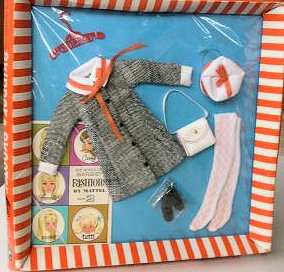 The fabric used for the dress is the same as Barbie's Career Girl #954 (1963-1964).  Although the ribbons were originally red, it is extremely rare to find one that has not faded to orange. It is the same ribbon as Barbie's Benefit Performance #1667 (1966-1967)  There was a variation of the dress that was made out of the same fabric as Ken's Business Appointment #1424 (1966 - 1967), which is a dark navy & white tweed.
See All Spruced Up on eBay

---
Beachy-Peachy #1938 (1967)
Yellow Cover-Up Dress with Large Daisy Print and Yellow Rick-rack Trim
Yellow Shirt and Short Set with Smaller Daisy Pattern and Rick-rack Trim
Pink Vinyl Tote with Large Daisy
Yellow Metal Headband
Yellow Flat Shoes
The Beachy-Peachy outfit is still available as a complete set or by the piece.  There is a rare variation with the Cover-Up Dress made from the yellow floral fabric from Tea Party #1924 (1966).  Also, there is a swimsuit variation with no pink daisy center (the daises are solid white).
See Beachy-Peachy on eBay.
---
Flower Showers #1939 (1967)
Royal Blue Raincoat in Light Blue Daisy Pattern and Self Belt with Gold Buckle 
Matching Hood
Hot Pink Rain Boots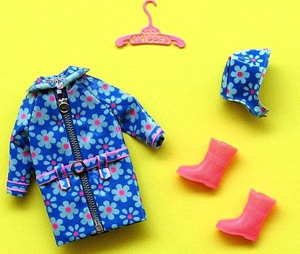 See Flower Showers on eBay
---
Glad Plaids #1946 (1967)
White, Yellow and Rose Plaid Coat with Rose Buttons and Belt with Gold Buckle
Rose Knit Sleeveless Shirt
Matching Plaid Skirt
Rose Knit Cap with Vinyl Bill
Matching Plaid Purse with Gold Chain
Yellow Lace Hose
White Ankle Boots
This ensemble is considered to be
very hard to find.


See Glad Plaids on eBay.
---
Hearts 'n Flowers #1945 (1967)
Lime Print Dress with Suspenders and Yellow Ribbed Top
Lime Print Jacket 
1967 Vintage Skipper Clothes Variation:
Pink, Blue, White and Green Floral Pattern Fabric
(The light blue, pink and green floral print variation is very hard to find.)
Matching Cap
Yellow Vinyl Shoulder Purse
Black Glasses
Black Book Strap with Arithmetic Book, English Book, Red and Tan Pencil
Yellow Ribbed Knee Socks
Yellow Ankle Boots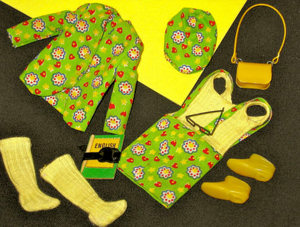 See Hearts 'n Flowers on eBay.
---
Jamas 'N Jaunties #1944 (1967)
One Piece Lime Green, Hot Pink and Orange Floral Print Pajamas
with White Lace Trim and Lime Bows
Matching Print Night Cap White with Hot Pink and Orange Floral Print
Panties White with Hot Pink and Orange Floral Print
Half Slip
Hot Pink Felt Slippers
4 Pink hair Rollers
4 Barbie Hair Pins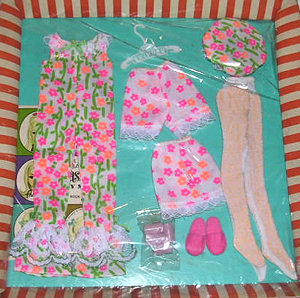 See Jamas 'N Jaunties on eBay.
---
Lolapaloozas #1947 (1967)
Pink with Lime Green Polka-dot Short Top with Lime Ruffled Sleeves
Pink with Lime Polka-dot Bell-bottom Pants
Sleeveless Shirt with Pink and Lime Dots and Stripes
Lime Skirt with Striped Pleat and Dotted Belt with Brass Buckle
Pink Floral Print Halter Top with Lime Ruffle
Floral Print Shorts
Pink Flat Shoes
| | |
| --- | --- |
| | See Lolapaloozas on eBay. |
---
Popover #1943 (1967)
White Lace Sheath Dress
Pink Vinyl Jumper with Yellow Dots and Lime Green Cut-out Dots
White Lace Hood
White Lace Tights
White Flat Shoes
The pink vinyl jumper is very prone to hardening, making it difficult to impossible to put on a doll.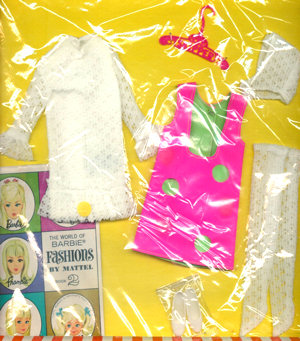 See Popover on eBay.
---
Right In Style #1942 (1967)
Green Jumper with White Stitching
Pink, Green, Yellow, and Blue Floral Print Dress with Green Waistband 
1967 Vintage Skipper Clothes Variation:
Aqua Blue Jumper and Waistband
(The turquoise variation is very hard to find.)
Matching Floral Print Hat
Black Glasses
White Ankle Socks
Green Flat Shoes
See Right In Style on eBay.
---
Rolla Scoot #1940 (1967)
Pink Sleeveless Sweater with Large Flower Applique
Orange Bell Bottom Pants
Pink Flat Shoes
Roller Skates with Black Wheels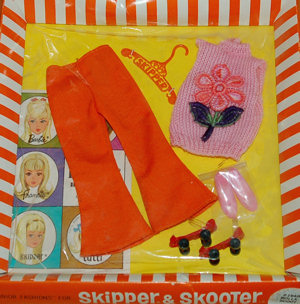 See Rolla Scoot on eBay.
---
Velvet 'N Lace #1948 (1967)
Red Velvet Coat with White Faux Fur Collar And Cuffs
Red Empire Waist Dress with White Lace Bodice
Short White Gloves
White Socks
Black Shoes with Silver Buckles
(The Black Shoes with Silver Buckles are very rare and hard to find.)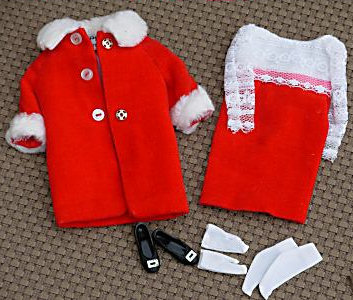 See Velvet 'N Lace on eBay.
---
You might also like: