Vintage Barbie 1962
Vintage Barbie 1962 boasted two hairstyles, ponytail and bubble cut, along with eight new ensembles.  Below are thumbnail pictures of Vintage Barbie 1962 to help you identify these vintage ensembles.  Each item pictured has its own page - click on the link or picture to see more details and information about each outfit.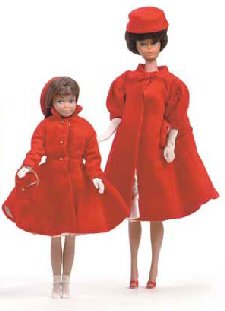 Vintage Barbie 1962 Dolls
Of the two hairstyle choices that were available in 1962, the bubble cut style was in greater supply.  The short, bouffant hairstyle was known as the bubble cut and was originally released in 1961.  
Vintage Barbie 1962 Ensembles
There were eight new outfits released in 1962 adding to the twenty-eight that were still in production from 1959-1961.  What were Barbie's wardrobe choices in 1962?  She had thirty-six choices.  And if that wasn't enough, Fashion Paks were issued to further enhance her already tremendous clothing options.  Click below to learn more about the eight new ensembles of 1962.
---
---
Vintage Barbie 1962 Fashion Paks
Fashion Paks were introduced in 1962.  Instead of complete ensembles they were either single items or accessories.  They were color coordinated and expanded Barbie's wardrobe with the ability to mix and match outfits and accessories.  With this new concept, what little girls could imagine just became endless.
---
---
---
Cotton Mix & Match Group
1962-1963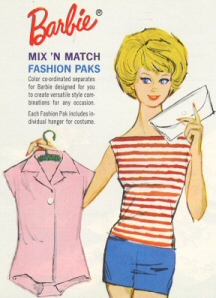 ---
---
You might also like: